Apex Biological Indicator (BI) products are designed specifically to meet the unique needs of the pharmaceutical, food, and medical device industries utilizing vaporized hydrogen peroxide (VH2O2) decontamination.
Our Apex product line offers:
The most resistant strain to

VH

2

0

2

processes

to assure the manufacturing area is decontaminated
Greatly reduced false positives because products match the decontamination process
A highly flexible portfolio of BIs to match the resistance of process parameters
Whether it be self-contained biological indicators, stainless steel discs/ribbons or a spore suspension, Apex BI products offer the ideal solution for validating and monitoring vaporized hydrogen peroxide (VH202) decontamination.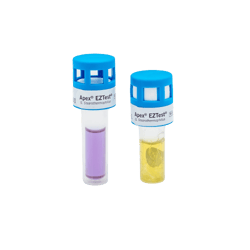 Apex EZTest
Self-contained Biological Indicator
Available with G. stearothermophilus 12980
Easy to culture - no laboratory required
Dramatic Color Change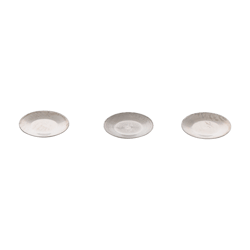 Apex Discs
Inoculated onto grade 304 stainless steel carriers
Discs measure 0.35″ diameter x 0.008″ thick
Available with G. stearothermophilus 12980 or 7953, or B. atrophaeus 9372
Tyvek® packaged indicators have perforations for hanging and a thumb notch for peeling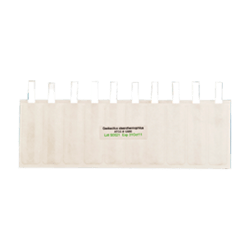 Apex Ribbons
Bare stainless steel ribbons measure (0.25″ x 2.75″)
Inoculated at one end
Available with G. stearothermophilus 12980
Convenient size and flexibility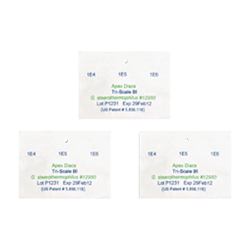 Tri-Scale Biological Indicator
One convenient Tyvek/Tyvek® package; three G. stearothermophilus 12980 populations
Three carriers with 104, 105 and 106 spores; sealed in separate compartments
Used for initial shakedown or validation of new enclosures or filling lines
Convenient to identify worst-case location(s) in enclosure
Technical Specifications
Document Downloads
Technical Specifications
Apex® Vaporized Hydrogen Peroxide Biological Indicators
---
Storage: 2 – 8°C; < 50% relative humidity
Expiration: 9 months from date of manufacture (not applicable for Apex BIs that are made to order)
Certification: Apex biological indicators are traceable to a recognized culture collection, and certified for population and reference D-value.
G. stearothermophilus 12980
Incubation

7 days at 55 – 60°C


Population

10

6
10⁴

10

3

10

6

104

105

106

106

Units

100

100

100

100

50

30

Reorder#

HMV-091

KCD-404

HMV-091E3*

SBC-327

LOG-456

AP-VH2O2-SC-S12980/6
*product is made to order
G. stearothermophilus 7953
Incubation

7 days at 55 – 60°C

Population

10

6
104
103
Units
100
100
100
Reorder#

NAS-152

NAS-152E4*

NAS-152E3*
*product is made to order
B. atrophaeus 9372
Incubation

7 days at 30 – 35°C

Population

10

6
105
103
Units
100
100
100
Reorder#

GRS-090

GRS-090E5*

GRS-090E3*
*product is made to order