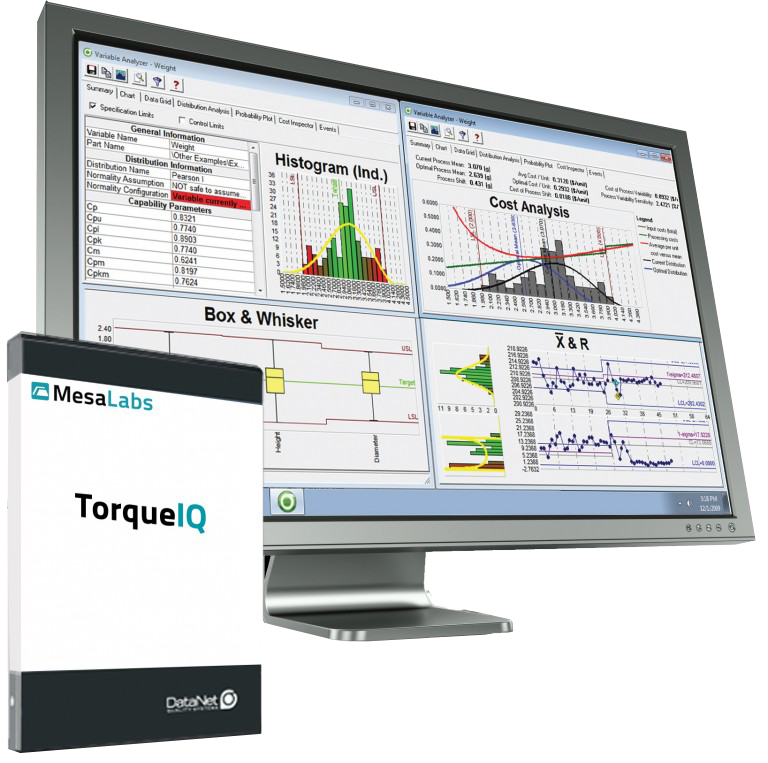 Real-Time Quality Control Software
TorqueIQ is a real-time statistical process control software used by quality teams to improve product quality, reduce process variation, and optimize manufacturing processes.
Torque IQ collects process data from the shop floor and transforms it into real-time, actionable quality information for operators, quality personnel, manufacturing engineers and management.
Installation and Configuration Guide
Improve product quality
Increase customer satisfaction
Reduce scrap, waste & rework
Optimize processes & yield
Achieve regulatory compliance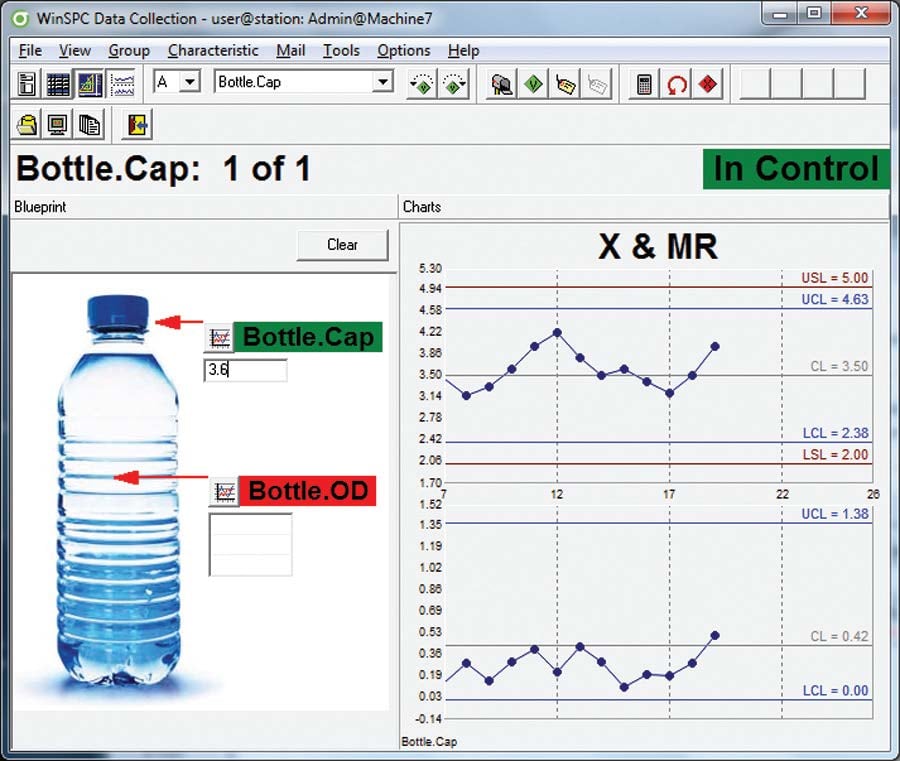 Perform Real-Time Statistical Process Control
Capture
Collect shop-floor data in real-time from virtually any source–gages, devices, machines, and other data sources. TorqueIQ's simple, three-step connection process makes it easy to simply connect and begin collecting data from almost anything.
Connect and collect data from any RS232 serial or USB device
Capture data from text files, .csv files, Microsoft Excel, any ODBC-compliant database, or machines such as CMMs or PLCs
Integrate with other manufacturing systems using OPC, OLE, and DDE–Torque IQ's built-in APIs supports over 500 OLE methods and properties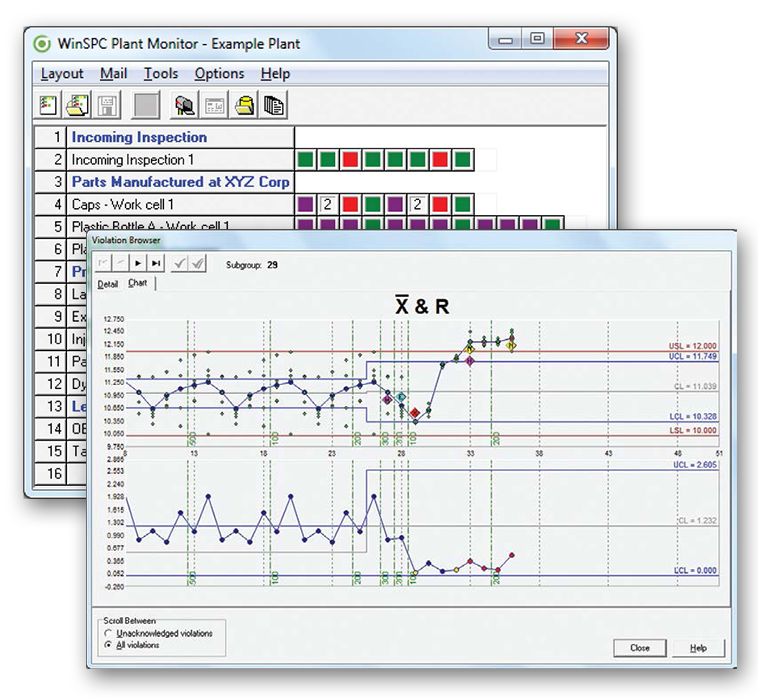 Monitor

Empower your operators with real-time, actionable intelligence. TorqueIQ displays real-time control charts on the shop floor–enabling your team to immediately detect and correct process issues.
Display a variety of control charts and SPC charts
Customize screen layouts
Scroll to view data from the "beginning of time"
Save time using built-in support for standard SPC rules
Click to drill-down and perform statistical analysis
Alert
Automatically alert personnel, execute custom programs, shut down machines, or engage other systems if a non-conformance or rule violation occurs using TorqueIQ's built-in triggers. Whether your requirements are as simple as sending an email or as complex as triggering a process within a corrective action system, TorqueIQ gives you the power to close the quality loop from "detection-to-correction".
Use a simple pull-down menu to schedule a variety of different notifications and alarms for nearly any condition.
Program your own custom triggers to schedule enterprise-wide alarms or communicate bi-directionally with other systems or machines or send a command to a device.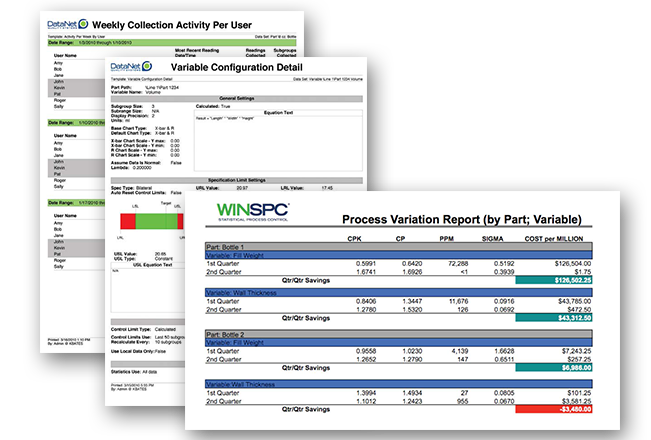 Report
Quickly create, publish and share quality reports across your organization using TorqueIQ's graphical report builder and dozens of standard report templates.
Build hundreds of custom reports using a visual interface–no programming skills required
Publish to PDF or HTML and email in a single click
Leverage a library of commonly used report templates
Configure your own library of commonly run reports
Link reports to data sets to quickly right-click and produce reports
Automate daily, weekly or monthly reporting tasks with TorqueIQ and Microsoft Task Scheduler
Comply with Regulatory Requirements
TorqueIQ's event log feature enables manufacturers who are subject to regulatory requirements (FDA, USDA, ISO, TS, etc.) to build auditability into their manufacturing process.
Support FDA 21 CFR part 11 requirements for electronic signatures and forced log outs for system security
Capture, trace and securely store process data for auditability
Record every system event, including the deletion of event log items, electronic signatures, and system configuration changes
Quickly filter and retrieve nearly all system activities such as startup/shutdown, security, administration, data collection and violations
Exchange Information with Systems & Software
Integrate TorqueIQ with other software and hardware using our built-in APS's with over 400 methods and properties of OLE. TorqueIQ also communicates bidirectionally with other systems, software and devices via OPC (Versions 1-3), DDE, serial, and ODBC.
Built-in APIs
Over 400 methods and properties of OLE
Bi-directionally communicate with intelligent machines and devices
Successfully integrate with other MES, ERP, HMI systems
Easy to Manage & Operate: Real-Time SPC in 4 Easy Steps
TorqueIQ provides a fast, efficient interface to quickly create, organize, and manage quality programs on a global scale, including all your parts or processes, variables, attributes, tags, and test plans–enabling you to manage large amounts of data and complex parts and processes.