Smart-Read™ Monitoring System
The Smart-Read™ EZTest® Biological Monitoring System allows an organization to release sterile product with true biological confirmation faster and easier than ever before. This unique system uses a real biological indicator (BI) — with no added enzyme or chemical integrator — which is incubated, evaluated, and documented in one simple, automated operation. Relying only upon bacterial spore growth, the Smart-Read™ system can detect sterilization failure in as few as three to five hours, and negative results can be confirmed with an additional five hours of incubation (10 hours total).
The Smart-Read™ system includes the Smart-Read™ EZTest® self-contained biological indicator which is specially designed for rapid evaluation in our advanced Smart-Well® incubator.
Based on familiar, proven technology, the Smart-Read™ system can be implemented by any organization with minimal training and validation.
Fast biological results
True biological system
Easy one-step evaluation
Automatic documentation
Alarm on sterilization failure
100% verifiable results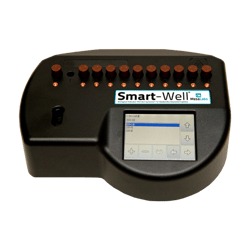 Smart-Well® Incubator
The heart of the Smart-Read® Monitoring System, the 1710 Smart-Well® is a highly sophisticated monitoring tool that is intuitive and designed with the user in mind. The Smart-Well incubator is easy-to-configure with its simple touch-screen interface and color LCD display. The incubator can evaluate up to ten Smart-Read EZTest® biological indicators independently, and contains an additional cell for a positive control unit. Each BI test result is automatically documented with a user-customizable printed report, and an alarm is sounded the moment that sterilization failure is detected.
The 1710 Model Smart-Well® offers these enhanced features:
Dual Integrated Digital Thermometers
Improved Processor and Storage
Larger, Color LCD Interface
Password Protection
Temperature Progress Meter
The Smart-Well® incubator is offered in a kit including the unit, user's manual, report printer, and all necessary cabling.
The Smart-Well® incubator is protected U.S. Patents 6,340,590 and 6,455,272. Other patents pending.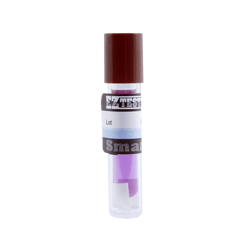 Smart-Read™ EZTest®
The Smart-Read™ EZTest® is a familiar self-contained color change biological indicator specifically designed for rapid evaluation in the Smart-Well® incubator. It requires no special processing and can be used in place of any existing self-contained BI. The Smart-Read™ BI contains spores of Geobacillus stearothermophilus and is suitable for steam sterilization processes.
Smart-Read™ EZTest® Test Pack
Smart-Read™ EZTest® Biological Test Pack with Instant Readout Integrator is designed specifically for biological testing of 132°C (270°F) pre-vacuum steam sterilizers. The test pack consists of a self-contained biological indicator containing Geobacillus stearothermophilus inside a small package of porous and nonporous materials, simulating the biological indicator 16 towel test packs defined by ANSI/AAMI ST79. When used as directed, the Chemical Integrator Record Card gives visible indication that sterilizing conditions were met.
"Biological Indicators should be used within PCDs for routine sterilizer efficacy monitoring at least weekly, but preferably daily every day that the sterilizer is in use."
– ANSI/AAMI ST79
Technical Specifications
Accessory Specifications
Document Downloads
Technical Specifications
Smart-Read™ EZTest® Biological Indicator
---
Expiration
24 months from date of manufacture
Certification
Smart-Read™ EZTest® biological indicators are traceable to a recognized culture collection and certified for population, D-value, z-value and performance.
Smart-Read™ EZTest®
Spore
G. stearothermophilus
Incubation

10 Hours at 58-62°C

Population
105
106
Units

100

100

Reorder#

SEZS/5

SEZS/6
Smart-Read™ EZTest® Biological Indicator Test Pack (PCD) – 25 units per case
Spore

G. stearothermophilus

Incubation

10 Hours at 58-62°C

Dimensions

4-1/2″ x 2-5/8″ x 3/4″

Population

105

Reorder#

SRSP/05 (5 controls)

SRSP/25 (25 controls)
Accessory Specifications
Smart-Well® Incubator
---
Reorder #
US: SWI1710-1
European: SWI1710-3
Australian: SWI1710-4
UK: SWI1710-5