The EZTest® Biological Test Pack is a small, convenient, product containing EZTest® self-contained biological indicators.
Designed to parallel the performance of the AAMI Test Pack, each pack includes a record card with a chemical integrator.
24-hour results for steam
Easy to culture
No laboratory required
Dramatic color change
Release Loads Immediately*
Switch to Smart-Read EZTest® for results in only 10 hours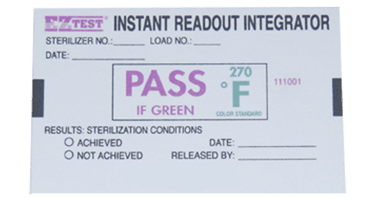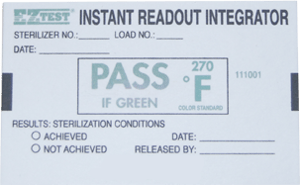 Control BI: The control unit should exhibit turbidity and/or a color change to or toward yellow. If the control unit does not show signs of growth, consider the test invalid.
Test BI: A failed sterilization cycle is indicated by turbidity and/or a color change to or toward yellow. A test unit that retains its original purple color indicates that sterilization parameters have been met.
*Non-implant loads only, loads containing implants should be quarantined until biological results are known. Instant readout card may be used to aid in the release of implant loads prior to biological results in emergency situations only.
Technical Specifications
Document Downloads
Technical Specifications
With 25 Controls: Catalog # STP/25
Incubation: 24 hours (Steam)
Expiration: 18 months from date of manufacture
Certification: EZTest biological indicators are traceable to a recognized culture collection and certified for population, D-value and z-value.