Protect the Integrity of Your Research with a Continuous Monitoring System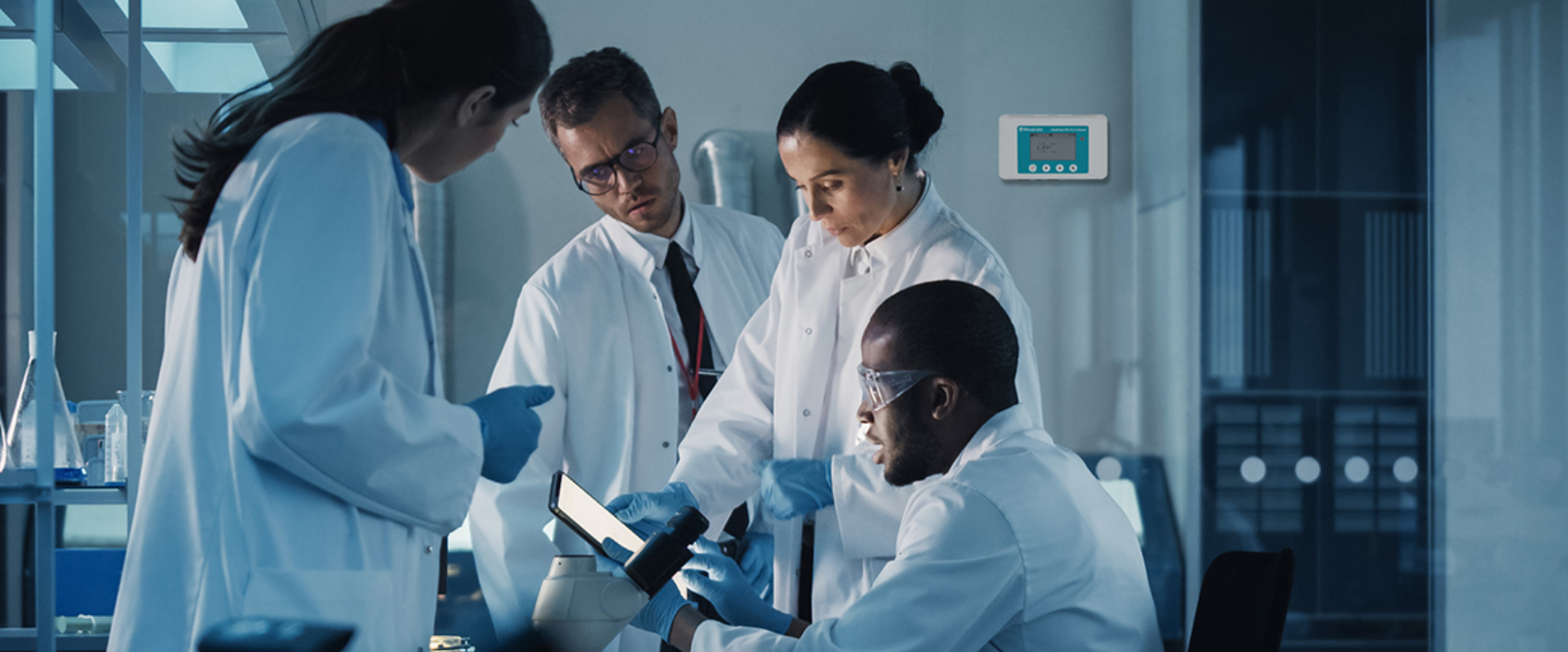 Monitor your critical environments and assets 24/7
How Our Continuous Monitoring System Works:
VPx Pro 6 Sensors and Probes: The continuous monitoring system is equipped with sensors and probes that are strategically placed throughout the facility. These sensors detect various environmental parameters such as temperature, humidity, pressure, door status, and more. The improved signal strength with VPx Pro 6 sensors is what sets us apart – use fewer sensors and benefit from increased data security.
Data Collection and Transmission: The sensors continuously collect real-time data from the monitored areas. The collected data is then transmitted to a central monitoring unit or cloud-based platform via wired or wireless communication protocols. With our automated system, you can be sure to protect the integrity of your research (even in the event of power failure) and keep consumers safe with a reliable product.

OnPrem Monitoring/ViewPoint® Cloud Platform: The central monitoring unit or cloud-based platform receives and processes the incoming data from all sensors. It displays the data in a user-friendly interface, allowing users to monitor and analyze the environmental conditions in real-time. Mesa Labs has two different hosting options for you to choose from: ViewPoint Cloud (a cloud solution) and ViewPoint OnPrem (host on your own network). Each option was designed with security top of mind.

Data Storage and Reporting: Get data fast! The system securely stores historical data in our enterprise ViewPoint software, allowing users to access and analyze past environmental conditions for compliance, audits, or research purposes. It generates comprehensive reports that provide insights into trends, patterns, and potential issues.

Remote Access and Control: ViewPoint Continuous Monitoring Systems offer remote access capabilities, enabling users to monitor the facility from anywhere at any time. Remote access allows users to take immediate actions, adjust settings, or respond to alerts even when they are not on-site.


Real-time Alarming and Alerting: The continuous monitoring system is equipped with customizable alerting and alarming features. If any parameter deviates from the pre-set thresholds or if there is an unusual event, the system triggers alerts and notifications. Users can receive these alerts through various channels, such as emails, SMS, or mobile apps.

Meet Compliance and Regulatory Requirements: Designed to meet various regulatory requirements, such as FDA 21 CFR Part 11, GxP, ISO standards, and more. The system's audit trails, data integrity features, and reporting functions ensure compliance with industry-specific regulations.

A Partner that's With You Every Step of the Way: To maintain accuracy and reliability, the ViewPoint Continuous Monitoring System requires regular maintenance and calibration. We provide maintenance plans that include probe replacements, system calibrations, and preventive check-ups. We can also provide ongoing service for you and can scale your Continuous Monitoring solution as you grow too.
If you are interested in talking with one of our representatives about our ViewPoint Continuous Monitoring solution and service, just click here.