DataTrace Pro (DT Pro) Software is the heart of the DataTrace MPRF and MPIII process monitoring solutions. From the creation of process reports, analyzing and understanding data, and complying with your regulatory requirements, DT Pro gives you greater insight and productivity.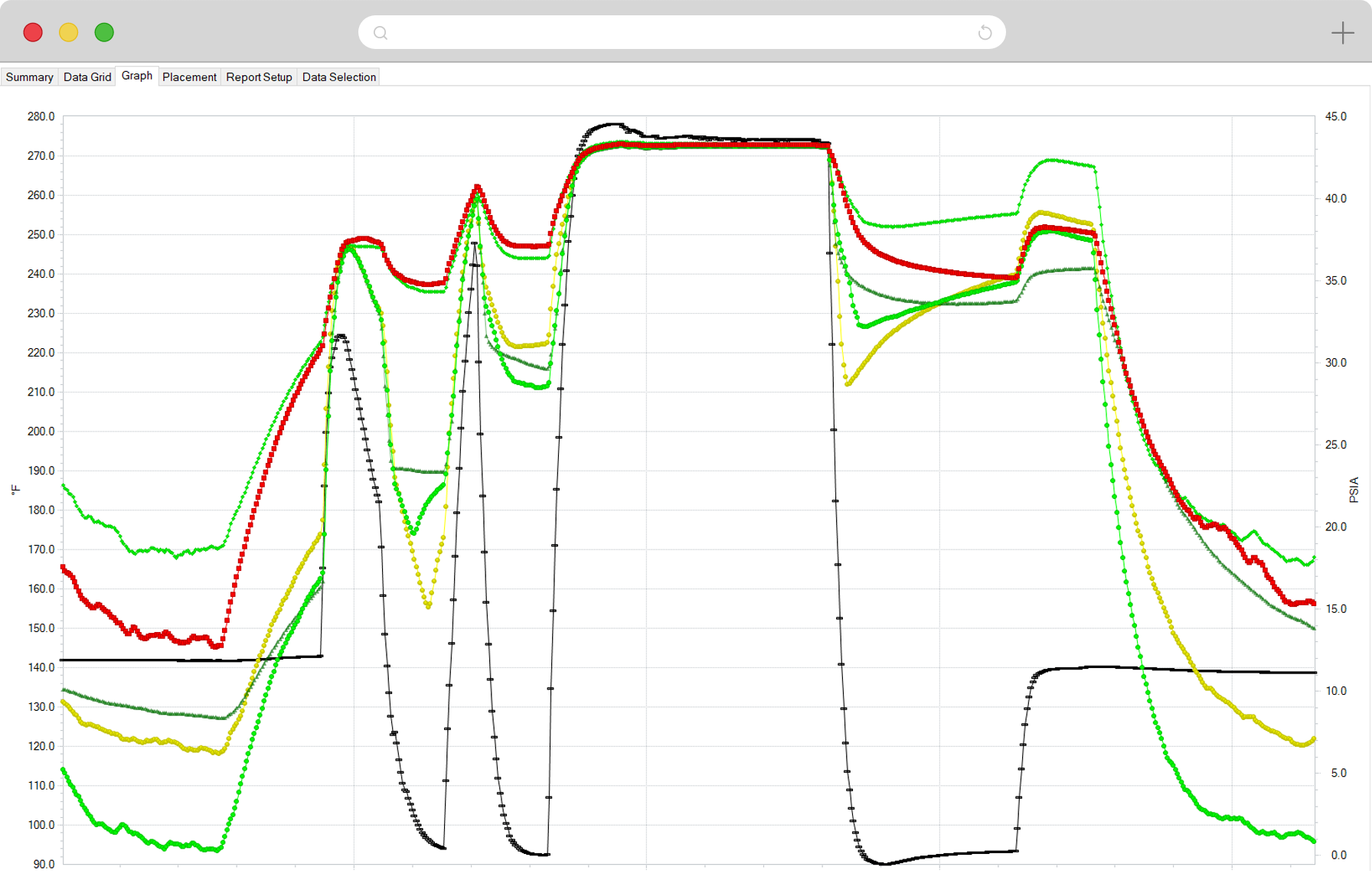 Powerful Reporting Capabilities
In the food processing industry, we need lethality data to know whether the product is safe to eat. All of this information can now be graphed and displayed all on one report with just one extra click for a quick, easy-to-read review of the process for anyone to check the results.
The robust reporting capabilities of the DT Pro software provide beautiful reports with graphs and calculations such as lethality, pre- and post-calibration verification displays of loggers before and after the process, and a placement view of the data loggers.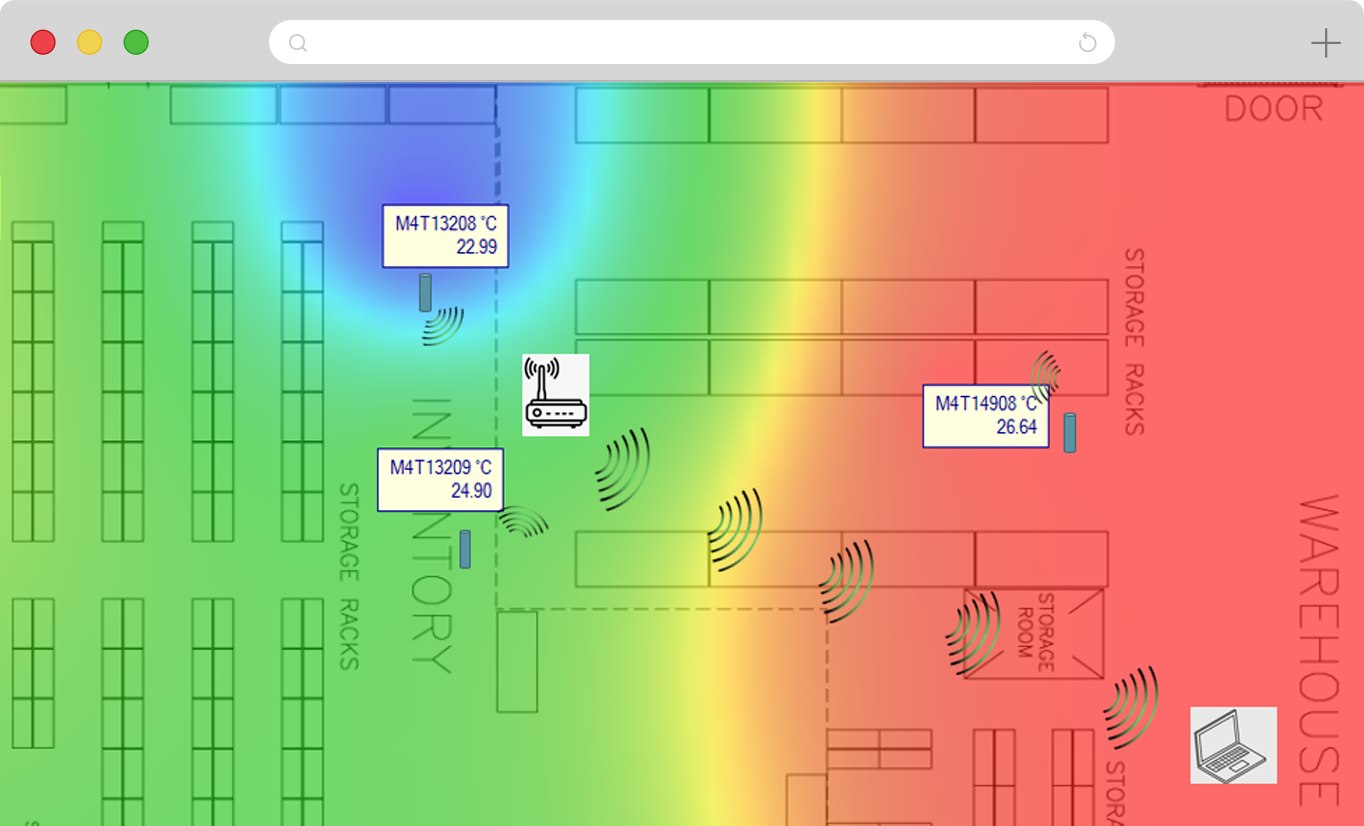 In Software Pre- and Post-Calibration Verification
There is a requirement to perform As Found results before use in EO, because once the gasses have affected the sensor, you need to prove that it was in calibration the next time it is used, right before use.
The software offers a "set it and forget it" type of calibration with industry standard controls and the ability to assess to a certain specified tolerance. It can calibrate loggers directly in the software and communicate with industry standard or leading metrology equipment. Please note, it is still recommended that you receive factory calibration once per year, but performing it in house simplifies the process.
21CFR Part 11 Compliance
When it comes to 21CFR Part 11 compliance, if you are not compliant, you cannot use the data loggers and software, so it is imperative to know what regulations you need to meet and whether your software is compliant. 21CFR Part 11 compliance is great for pharmaceutical communities with regulatory compliance needs under the FDA that need to show they are meeting requirements on a regular basis. DT Pro software is 21CFR Part 11 compliant and has the ability to maintain regulatory compliance while processing and handling data.
DataTrace Pro Comparison Matrix
DT Pro Software
21CFR Part 11 Compliant
Radio Frequency
Software Validation Docs Available
Description
DT Pro Basic License
No
No
No
Includes all the tools to program, read, test and calibrate loggers, create and customize reports, and manage data.
DT Pro Plus License
* Yes
Yes
Yes

In addition to the features of the Basic edition, includes support for Radio Frequency (RF) loggers and interfaces, wireless data reception, alarms, and support for regulatory compliance.

DT Pro LAN License
* Yes
Yes
Yes
In addition to all the features of the Plus edition, includes the components necessary to share its database with other DataTrace Pro installations. Note: for a shared LAN installation, only one LAN Server edition is required; Plus editions include the components necessary to connect to the LAN server database.

NOTICE: DT Pro Plus or LAN should be should be used in industries or companies that are subject to USFDA regulations (21CFR Part 11) or the international equivalent, such as the pharmaceutical or medical industries; companies requiring GxP compliance or operating in ISO certified environments should also use Plus or LAN versions.

*DT Pro Plus and LAN versions have the features/functions required for 21CFR Part 11 Compliance. Ultimate compliance also requires the end user to have, and adhere to, the additional SOP's, and documentation practices required by 21CFR Part 11 Compliance.
Please review the following information carefully.
Full Installer
If you are new to DT Pro, please use the Full Installer Download. The Full Installer is approximately 360Mb. It may require some time to download. After the download is complete, follow the "DataTracePro Installer v1.3.1.6 Software User Manual" PDF to install DT Pro.
Software License Requirements: After a successful installation, DT Pro will be fully functional for a period of 2 weeks. After 2 weeks, many features will be disabled. You must contact customer service at Mesa Laboratories, Inc. and provide us your Installation ID to purchase a proper license key for permanent access. The Installation ID will be displayed when DataTrace Pro starts or access it via File menu > License Registration option.
Upgrade Installer
If you already have DataTrace Pro installed on your computer, then use the Upgrade Installer Download. Previous saved data or configuration information will not be affected. The Upgrade Installer size is approximately 40MB. Upgrades are free and do not affect or require new license registration.
Note: The minimum system requirements listed below is for a brand-new install of DT Pro v1.3.1 and newer versions only.
Component
Requirement
Processor Type

x64 Processor: AMD Opteron, AMD Athlon 64, Core i5, Core i7

x86 Processor: Pentium 4-compatible processor or faster

Memory

Minimum: 2GB RAM for 64-bit systems

Recommended: 4GB RAM for 64-bit systems

Processor Speed

2.0 GHz or faster

Windows OS

Windows 8.1 and 10 (64-bit)

Hard Drive

Minimum: 12GB

Recommended: 20GB

I/O Ports

At least one functional USB 2.0 port

Special Note

Requires "Administrator" privileges to install
Software should only be downloaded in accordance with your company's existing policies for software version control. If your company is required to comply with USFDA 21 CFR 11, GAMP5, EU Annex 11 or otherwise requires a formal validation and documentation packages, please consult with your organization's Quality Assurance department prior to downloading software installation packages or upgrades.
Mesa Laboratories, Inc. provides formal validation and documentation packages at benchmark intervals and major revision changes. If your company is required to comply with USFDA 21 CFR 11, GAMP5, EU Annex 11 or otherwise requires a formal validation and documentation packages; please consult with one of our DataTrace Sales representative to purchase the Validation package.
Please note that Microsoft no longer supports Windows 8 (or older) or SQL Server 2008. For optimized functionality, Mesa Labs highly recommends that DT Pro is run on a Windows 10 or newer PC. (Among other benefits, the database size limit of SQL Server 2017 Express has been increased to 10GB, as compared to only 4GB in the 2005 SQL Server Express version.) If this is not possible, please follow the workaround below to enable DT Pro version 1.3.1.
Download and install the older DT Pro version 1.2 build 20140116 "Full Installer." This version will install the older SQL Server 2005 Express, which is compatible down to Windows XP.
Ensure that DT Pro v1.2 was installed appropriately and will start up and run successfully.
Next, run the DT Pro version 1.3.1 "Upgrade Installer." The upgrade remains reliant on components of your existing install, and thereby leaves the older SQL Server 2005 Express in place.
Get the Latest DT Pro Software